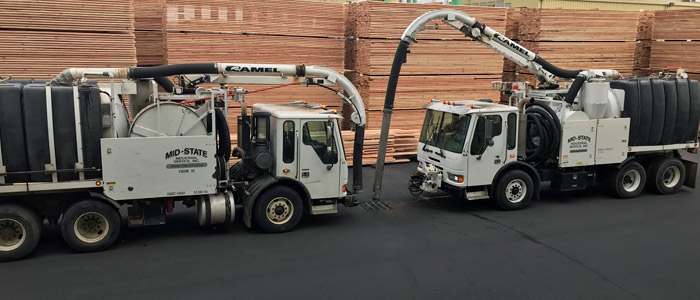 Mid-State Industrial Service, Inc. provides vacuum cleanout service for storm drain catch basins throughout Oregon from our headquarters in Eugene, OR.
Water that drains from parking areas or other impervious surfaces into storm drains typically flows through a catch basin whose purpose is to collect sediment, silt chemical and other environmentally hazardous materials, keeping those from entering Oregon's groundwater system and our fresh water recreational areas.
First Sign of Trouble May be Standing water
In Eugene and throughout Oregon, we get our fair share of rain. If your parking lot is starting to resemble a shallow pond after moderate to heavy rains, not only is this a headache for parking access to your location, the standing pool of water can also cause damage to your parking lot or the interior of your adjacent building.
Each year, parking lots and streets are damaged – and many business and residential building floods have occurred that could have been avoided with proper storm drain cleaning.
The before and after photos below show a storm drain filled with dirt and debris and the results after performing our storm-drain cleaning:
Problems with Clogged Storm Drains Lead to Pollution
Most often, your local building inspectors will be responsible for helping ensure that catch basins and the storm drains connected to them are properly constructed, maintained, and cleaned on a regular schedule. Inspectors work, together with Oregon's DEQ is designed to prevent contamination, and degradation of Oregon's groundwater resources.
Cleanout of catch basins in storm drains affects anyone with municipal, industrial, or commercial property draining to the public storm drain and sewer system.
This pamphlet does a good job explaining the connection between storm drainage, pollution and Oregon's drinking water supply.
Cleanout of storm drains is part of routine maintenance
Routine catch basin cleaning is vital to keep water flowing into storm drains and to prevent standing water and puddles that can damage parking lot and street surfaces. By professionally removing dirt, sand, trash, and other debris from storm water catch basins, you can ensure proper function of drainage systems and prevent storm sewer back-ups that cause flooding.
You may already be seeing slow moving storm water drainage or back-ups. Or, you simply haven't had your catch basin serviced recently. By adding catch basin and storm drain vacuum cleaning to your preventative maintenance schedule you can avoid damages from unexpected, extreme weather.
Clogged Storm Drains / Catch Basins Face Environment Regulation Issues
If catch basins are not cleared regularly, they also become harmful to the environment. Capturing and containing pollutants directly at their points of origin promotes cleaner water.
Due to local, state, and federal environmental regulations, many cities throughout Oregon require regular catch basin inspecting and cleaning. Mid-State Industrial's catch basin cleaning services ensure that you are meeting your community's requirements and staying compliant. An important fact that differentiates us from some others that clean out storm drain catch basins — all debris that our vacuum trucks remove is disposed of properly – and legally!
With a goal of preventing or reducing pollutant runoff from municipal operations into the storm sewer systems of Lane County, (Eugene and Springfield, OR) Mid-State Industrial Service also carries absorbent media. These absorbents protect a catch basin and are designed to absorb petroleum-based products (gasoline, oil, etc.) and metals to prevent contamination.
We have high powered vacuum extraction equipment and the qualified, trained workforce people to successfully vacuum clear your storm drains. Mid-State Industrial Service operates 24/ with flexible, customizable schedules. We will accommodate your business hours to cause minimal disruption.
Call us or submit a request to learn more about our catch basin and storm drain cleanout services!
Contract your storm drain cleaning with the reliable experts at Mid-State.