Contract with Mid-State Industrial Service to schedule monthly, special event or emergency street cleaning.
Street sweeping is important to our Oregon communities for several reasons. The main reason is to remove the debris that builds up in the "gutters" (or sides) of the road. Sweeping away leaves, branches, dirt, sand, and other pollutants on a consistent basis protects our waterways by catching this debris before it can wash into storm drains.
Clean, clear, and unobstructed street gutters are important in times of heavy rain because they allow run off to drain quickly, avoiding flooding, standing water, and slick streets.
Sweeping streets on a regular, rotating basis is also part of keeping up property values and providing what we all appreciate as "curb appeal". People and overall property value benefit from having a clean community.
Large Fleet of Street Sweeping Vehicles – Ready When Needed
As Oregon's largest NAPSA-Certified sweeping contractor, Mid-State Industrial is ALWAYS available with our fleet of street sweeping vehicles.
Mid-State's high-performance mechanical broom street sweepers can keep up with even the most demanding schedules and our high-capacity sweepers means fewer trip to discard swept material. By utilizing efficient, high capacity broom sweepers we can sweep more area in less time boosting your efficiency and lowering costs.
In addition to our heavy-duty broom sweeper fleet, we also vacuum sweeper vehicles to clean the fine material from the road surface or adjacent parking lots.
With a wide variety of truck mounted sweepers in our fleet, Mid-State crews always show up with the right equipment to clean your streets.
Private Road, Highway and Municipal Street Sweeping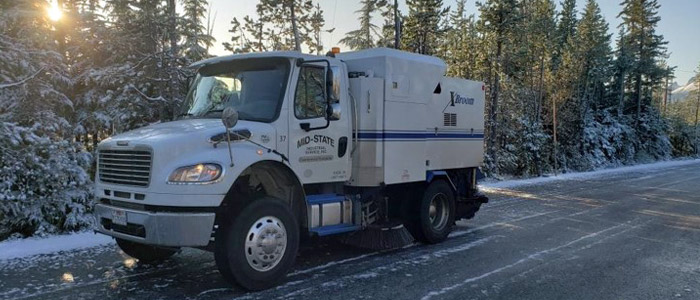 Mid-State Industrial Service provides a comprehensive range of paved roadway and highway sweeping services for municipalities, private homeowner communities, and state agencies. In addition, our crews are fully competent on milling sweeping and parking lot sweeping. We provide our services around the metro Eugene, Oregon area and throughout the state.
Since 1970, Mid-State has delivered timely street and highway sweeping service year-round, removing leaves in the fall, and sweeping even throughout Oregon's winter weather conditions.
Available to Sweep Streets on an Emergency Basis
Although Mid-State crews typically work closely with homeowner associations (HOAs) or municipalities to provide scheduled street and access road sweeping, we also understand that unexpected situations, accidents, and last-minute inspections may occur.
Our on-call availability provides around-the-clock emergency sweeping solutions to meet your specific needs. Our sweeping services are available 24/7/365. We are ready to help with your emergency street cleaning needs!
Contact Mid-State Industrial Service, Inc. today to create a professionally managed street sweeping service plan that suits your city or private community's schedule and budget.