Mid-State Industrial Service Honored as 2021 Sweeping Contractor of the Year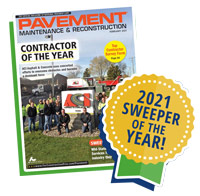 We are delighted to share the news that Mid‑State Industrial Service, Inc. has earned the designation of 2021 Sweeping Contractor of the Year. This award and recognition came from Pavement Maintenance & Reconstruction Magazine, the leading trade publication in our industry.
As a family-owned business local to Eugene, OR, we are especially proud that this award speaks to the strength and staying power of our company's mission since our founding in 1970.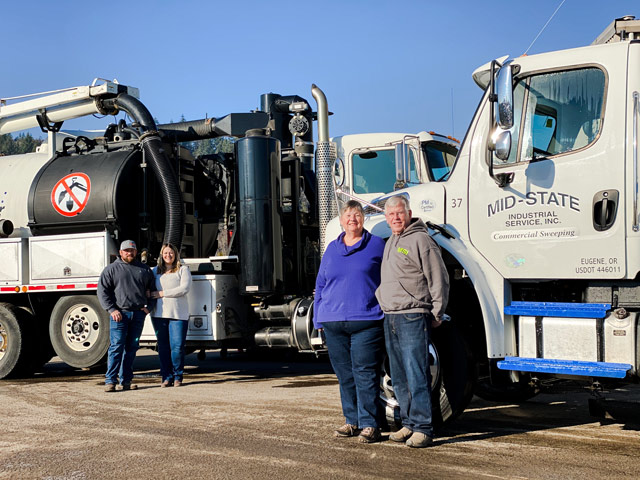 Not only do we thank our customers and vendors, some of whom have been with us throughout our 50+ year journey, we also humbly thank our employees for helping create and preserve our culture. Part of our success is hiring people with the intention that they will be with us for the long term, and most of them do stay for long periods. Within the last two years, three people who retired from Mid-State had each been with our company between 26 and 35 years.
We'd also like to thank our peers at Pavement Maintenance & Reconstruction for their expansive article highlighting our dedication to this community and our ability to grow and change with the times.
In his article acknowledging this honor for Mid-State, Pavement's editor, Allan Heydorn, stated:
"[Mid-State] not only broadened its services to its existing base but expanded that base to include property managers, contractors, developers, and public agencies.

They have transitioned from a local business with limited growth potential to a statewide operation that has experienced consistent growth by identifying and fulfilling market needs, maintaining pricing and job quality, and hiring and retaining employees."
Heydorn's article showcases how Mid-State has expanded our services over the years from our beginning as a parking lot sweeping service provider.
A good example is our comprehensive catch basin cleaning service, which we started in the early 1980s, when we recognized a growing demand for taking care of stormwater systems. At the time, except for municipal and government agencies, no one else had equipment to clean the catch basins or clear sewer drain lines.
Similarly, over the years we added two Camel jet/vac combination trucks, two Vactor excavation trucks, and a Sewer Equipment Co. jet/vac combination truck to expand capabilities for vacuum excavation – better known in the industry as hydrovac excavating.
The article also describes many of our programs that separate us from "the competition". This includes our use of technology like forward-facing and cab-facing cameras, live GPS tracking, vehicle maintenance prompts, and vehicle fault reporting. Our mix of people power and tech savvy helps keep track of where our people are and their possible availability for time-sensitive spot jobs as they come in during the day.
Mid-State's core customers appreciate our quality; when they are on a schedule, they know that the service will be performed when it's supposed to be. We have enough people and equipment that the job always gets done when scheduled — even on occasions that managers or owners need to perform that service.
A key focus brought out in the story is Mid-State's ability to adapt our crews, equipment and techniques to take on one-of-a-kind and extremely unusual projects. Some of these unique situations include using our sweeping equipment to sweep a field to pick up horse droppings, sweeping a seeding field picking up a large quantity of grass seed that had dropped from a leaking combine hopper, delicately sweeping the synthetic track at the University of Oregon's Hayward Field. We are also known as the company that successfully vacuumed the sand off an abandoned rooftop volleyball court.
All in a day's work at Mid-State Industrial Service!
If you are interested in reading the whole article, click here to visit Pavement Maintenance & Reconstruction.