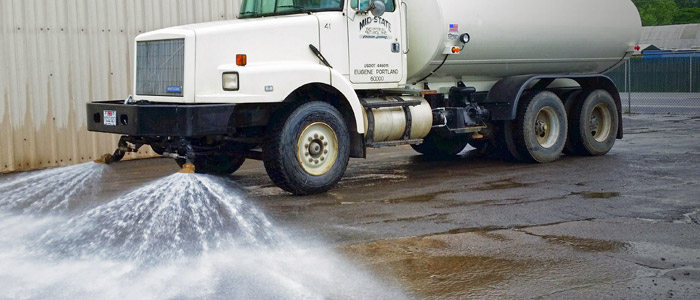 Mid-State Industrial Service, Inc. is Oregon's trusted, reliable contractor providing fugitive dust control service throughout our state from our headquarters in Eugene.
Oregon's environmental regulations require that building contractors use specific efforts to mitigate sources of airborne dust particles that contaminate our air, streams, and lakes. Builders and general construction contractors, industrial facilities, concrete companies, utilities, and commercial paving companies are required to have fugitive dust control plans in place at their work sites if significant dust is being raised.
In addition, parking lots need to be regularly vacuum swept to remove zinc and other heavy metal particle from asphalt pores. Even gravel parking lots can spread significant dust in the drier months.
Regulatory Compliance to Control and Mitigate Fugitive Dust
Without municipal or state-sanctioned dust control plans dirt and loose sediment can lead to poor visibility and choking dust clouds. Wherever it originates – construction staging areas, active site digging and excavation or highway shoulder work – controlling roadway dirt and dust is a contractor's responsibility.
Not having a dust control plan or non-compliance with the dust control plans can result in fines and even work shutdowns.
You can trust Mid-State Industrial Service to help your company formulate a highly effective dust control plan and to take responsibility to clean soil spills and dirt tracked out of a construction or demolition zone onto roadways.
Mid-State is passionate about the environment and we are also serious about complying with municipal fugitive dust regulations. We can help you avoid work-stoppage delays and fines while protecting the environment.
Bringing the Right Equipment for the Job – Every Time
Mid-State has a fleet of vacuum trucks, water sprayers, mechanical and vacuum street sweepers that can contain and remove dirt, trash, and sediments from streets, parking lots, and catch basins.
We can be part of your dust mitigation plan with regularly scheduled vacuum street cleaning, water spraying or wet sweeping of your work zone. Because our staff understands environmental issues associated with fugitive dust control, Mid-State can match the correct equipment to your job, helping you stay in compliance with local, state, and federal environmental regulations.
Require Emergency Sweeping for Dust Control?
Although we work closely with building contractors, paving companies, industrial facilities, and construction site excavating companies to provide scheduled, regular sweeping, we also understand that unexpected inspections can occur.
An unplanned visit from your city or Oregon EPA-enforcement officer can shut down a construction site, requiring you to provide adequate control of airborne fugitive dust at the site before work is allowed to continue.
Mid-State provides on-call availability – 24/7 – giving you a flexible dust control solution to meet your specific needs.
Call us or send in a request to learn more about our Fugitive Dust Control Sweeping services!