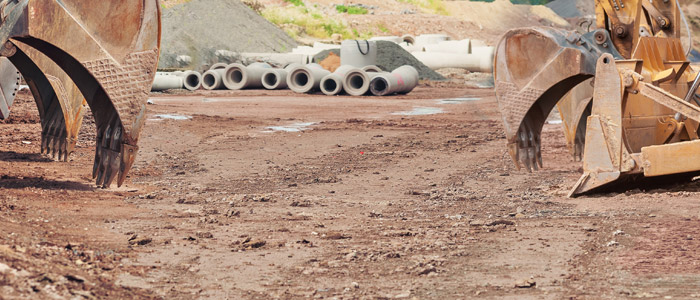 Mid-State Industrial Service, Inc. has spent the past 50 years working with tight construction timelines and budgets. We also recognize that in today's competitive business climate, maintaining sub-contractor productivity is more important than ever.
Construction site managers who outsource power sweeping to Mid-State Industrial Service keep their schedules intact and their crews working the project rather than cleaning up dirt tracked out of their job site in Eugene or throughout Oregon.
Mid-State is Oregon's trusted choice to keep your construction site compliant with local and state environmental requirements and keep your work crews productive and safe. You can reduce capital outlays for your construction company by eliminating the need to purchase and maintain sweepers and specialized crews.
Obligation to Remediate Tracked Dirt and Soil Runoff
Responsibility to help prevent dirt and debris from entering storm drains and ultimately the water system rests strictly on the construction site manager.
Environmental Storm Water Pollution Prevention Plans (SWPPP) are developed to assure that when you dig, dirt stays on your construction site and does not drain into the stormwater sewer system.
Construction vehicles exiting the job site onto paved roadways and streets can and will track heavy sediment and dirt.
Maintaining the cleanliness of your building job site not only keeps your crew working at maximum efficiency, regularly scheduled sweeping also promotes good standing with your community, neighbors, and local and regional inspectors. By planning for consistent sweeping the construction project's jobsite manager also reduces liability caused by damage from loose rocks, dirt, and debris.
Regulatory Compliance for Fugitive Dust and SWPPP
In Oregon the DEQ (Department of Environmental Quality) has mandated that your job site be compliant with guidelines issues by EPA and Clean Water Act (CWA).
One of the primary reasons for removing waste from construction sites is helping to control fugitive dust and storm water runoff contamination. As a company involved in storm drain catch basin cleanout work, Mid-State Industrial Service has comprehensive knowledge of just how easily storm drains can fill with sediment and debris.
Scheduling sweeping services with Mid-State Industrial Service may help avoid penalties, work-stoppage delays and fines while you are also protecting the environment.
Is There an Emergency Requirement to Sweep your Construction Site?
An unannounced or unplanned visit from the city building inspector or an Oregon EPA-enforcement officer can shut down a construction site, requiring you to provide adequate control of erosion and sedimentation at the construction site before work can continue.
Mid-State provides on-call availability – 24/7 – providing you with a flexible sweeping solution to meet your specific needs.
Call us or submit a request to learn more about our construction sweeping services!
Advantages of Mid-State's Full-Service Construction Area Road Sweeping
We provide:
A detailed and tailored initial cost survey and proposal covering the scope of service
Equipment that matches capabilities to your sweeping requirements and debris levels
Qualified sweeper vehicle operators provide total job site cleanup
Reliable response to your sweeping service request
A cleaner, safer, and compliant jobsite at lower sweeping costs
Accurate, computer generated billing clearly indicating the service date(s) and location which corresponds to the service ticket provided by the operator