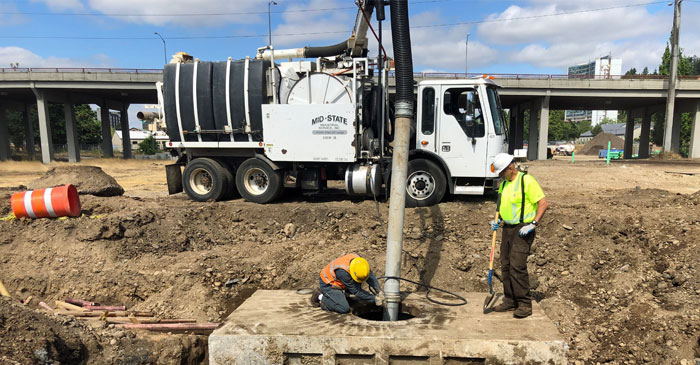 Mid-State Industrial Service uses commercial vacuum trucks to remove accumulations from remote or inaccessible confined space areas including tanks. Solids and liquids can be collected, allowing us to remove wet or dry materials including fine powders and silt.
Cleanup Refuse or Material Recovery
The 16 cubic yard wet/dry Guzzler industrial vacuum uses high power airflow to clean up and recover solids and dry bulk powders, liquids, slurries, and thick sludge. If your spilled material has commercial value, we can vacuum collect and recover for re-use. In other cases, tank cleaning involves vacuum collection of material that will be disposed. Unlike some other companies, Mid-State Industrial ALWAYS has a plan for the safe, authorized, and legal disposal of material we collect.
If you have a spill or cleanout requirement, we can help!
Examples of successful collection via vacuum truck include:
Baghouse Ash Collection Tank Cleaning
Oil Tank Cleaning
Elevator Pit Cleaning
Wood Chip Collection at Lumber Mills
Before and after photos:
24-Hour Emergency Capability
Although Mid-State typically provides comprehensive site cleanups on a scheduled basis, we understand that emergencies occur, and we are ready to step in. No matter the time of day or night, you can count on Mid-State industrial Service for swift emergency response to vacuum spilled aggregates or liquids.
Our plant and vessel vacuum cleaning technicians are trained to keep a calm and level head during an emergency.
No matter what type or size of accidental spill your location experiences, we know how urgently you need us to clean it up. Depend on us to return your site to its original, clean condition.
Transportation, treatment, recovery, and/or disposal of the material we vacuum are all taken care of responsibly and legally.
Whether a tank malfunctioned and spilled waste in your plant or a pipe broke and flooded an area with water, a Mid-State Industrial Service crew can be on the scene quickly to help you get your plant back up and running in no time.