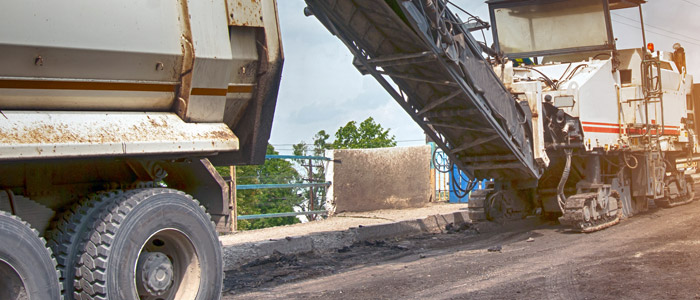 Sweeping roadways during the asphalt planing or milling process as streets are resurfaced is some of the most demanding work our crews perform at Mid-State Industrial Service, Inc. Our mechanical broom sweeping on cold planing (CP) pavement milling projects requires extremely tight coordination with the paving contractors.
The Dependable Milling Sweeping Experts
Known throughout Oregon for our timeliness and ability to adhere to the strict street repaving schedules, Mid-State is the respected, trusted partner to coordinate with if your road paving crew needs continuous sweeping during a mill and asphalt overlay operation.
Maintenance and reconstruction projects that involve milling asphalt to reduce the height or depth of a paved road, bridge, or parking lot typically remove a substantial amount of recyclable asphalt product. Using some of the highest-level equipment in our industry – the X-Broom mechanical sweeper – our sweeper truck drivers quickly adapt their equipment based on each milling operation's specific requirements. The key to our successful sweeping behind milling machines, is the ability to completely remove residual gravel created as several inches of asphalt are planed away.
We Understand the Paving Process, Permitting and Timeline Requirements
Whether you are a commercial contractor or state agency, in the paving world, time is money and staying on schedule is vital for every phase of your job.
Having worked on hundreds of thousands of street miles during our 50-year history, Mid-State Industrial Service will be on the project from bid to completion as a skilled partner dedicated to helping you meet DOT requirements and stay on schedule.
Ensuring that the roadway passes inspections and traffic can resume safely in a timely manner is at the core of our work.
In addition to staying in constant communication with flaggers, job superintendents, onsite personnel, and police, our drivers can help keep you on track by managing the high volumes of heavy material resulting from milling and conditioning.
Mid-State is the sweeping contractor you can count on to help complete your project within the exact specifications and timeline allowed. Contract with us to schedule regular, special event or emergency street cleaning.
Large Fleet of Sweeping Vehicles Means We Are Ready When Your Paving Trucks Are
Mid-State's high-performance mechanical broom street sweepers can keep up with even the most demanding milling operations and unload collected asphalt, gravel, and debris into any size dump truck, boosting your efficiency. By utilizing efficient, high capacity broom sweepers we can sweep more area in less time.
Our sweeper operators receive some of the most extensive training in our industry and typically have years of experience on the job.
In addition to our heavy-duty broom sweeper fleet, we also have the proper vehicles to clean the fine material from the road surface prior to paving. Our vacuum sweepers improve the productivity and integrity of paving operations by sweeping fine dust particles, and even surface water, ahead of tack being applied prior to paving.
Because Mid-State Industrial Service has a wide variety of truck mounted sweepers in our fleet we are always able to bring the right equipment to your paving jobsite.
Available to Sweep Milling Projects on an Emergency Basis
Although Mid-State crews typically work closely with paving contractors to provide scheduled sweeping, on milling projects, we also understand that unexpected situations, accidents, and last-minute inspections can come up.
Our on-call availability provides around-the-clock emergency sweeping solutions to meet your specific needs. Our sweeping services are available 24/7/365.
Contact Mid-State Industrial Service, Inc. today to create a professionally designed milling, conditioning, and paving sweeping service plan that suits your paving schedule and budget.