Contract with Mid-State Industrial Service to schedule weekly, monthly, or emergency parking lot sweeping.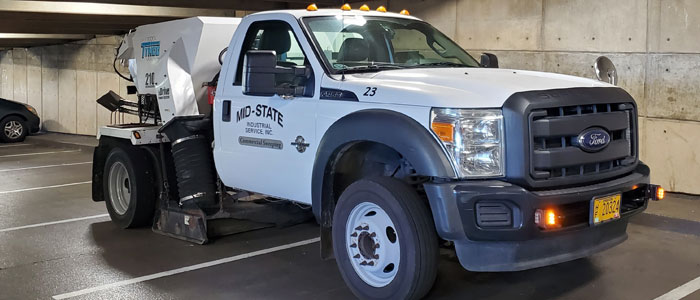 Dirt, debris, and litter cause wear and tear on parking lots, garages, common areas, and sidewalks. As they accumulate and get walked into your facility, this dirt tracked every day from constant vehicle and pedestrian traffic negatively affects the appearance of your property.
Sweeping away leaves, dirt, sand, and other pollutants on a consistent basis protects the interior of adjacent buildings and also Oregon's waterways by catching this debris before it can wash into storm drains.
A Clean, Clear, and Litter-Free Parking Garage
Mid-State Industrial Service understands that garage and parking lot managers run with tight facility maintenance budgets. We also know that maintaining your property's visual appeal to customers and potential tenants is extremely important. Maintaining the exterior of your building is essential to attract quality retail tenants and their customers.
Outsourcing your parking sweeping and site maintenance to Mid-State keeps your parking lots and surrounding entry points trash-free and looking sharp! We provide sweeping services for parking lots in retail, commercial, warehouse municipal and office environments throughout Eugene, Oregon and beyond.
Sweeping the parking deck in your garage on a regularly scheduled basis is part of keeping up property values and providing what we all appreciate as "curb appeal".
Outsourcing your parking sweeping and site maintenance to Mid-State keeps your parking lots and surrounding entry points trash-free and looking sharp!
Large Fleet of Sweeping Vehicles – Ready When Needed
As Oregon's largest NAPSA-Certified sweeping service contractor, Mid-State Industrial is ALWAYS available with our fleet of parking lot sweeping vehicles.
Mid-State's high-performance vacuum parking garage and lot sweepers can keep up with even the most demanding nightly schedules.
By utilizing energy efficient, high capacity vacuum sweepers we can sweep more area in less time with fewer trips to discard swept material boosting your efficiency and lowering costs.
In addition to our heavy-duty broom sweeper fleet, we also have vacuum sweeper vehicles available to clean parking lots.
With a wide variety of truck mounted sweepers in our fleet, Mid-State crews always show up with the right equipment to thoroughly clean your parking garage or lot.
Private Parking Garage and Municipal Parking Lot Sweeping Services
Mid-State Industrial Service provides a comprehensive range of paved sweeping and cleaning services for municipal and private parking lot and garage managers. Our parking area cleaning services are available within the metro Eugene, Oregon area on call and can be scheduled throughout the state.
Since 1970, Mid-State has delivered timely parking garage and parking lot sweeping service year-round, removing leaves in the fall, and even sweeping during Oregon's winter weather.
Available to Sweep Your Parking Lot on an Emergency Basis
Although Mid-State crews typically work closely with owners/managers to provide scheduled lot and parking garage sweeping, we also understand that unexpected situations, accidents, and last-minute situations may occur.
Our on-call availability provides around-the-clock emergency sweeping solutions to meet your specific needs. Our sweeping services are available 24/7/365. We are ready to help with your emergency parking lot cleaning needs!
Contact Mid-State Industrial Service, Inc. today to create a professionally managed street sweeping service plan that suits your city or private community's schedule and budget.