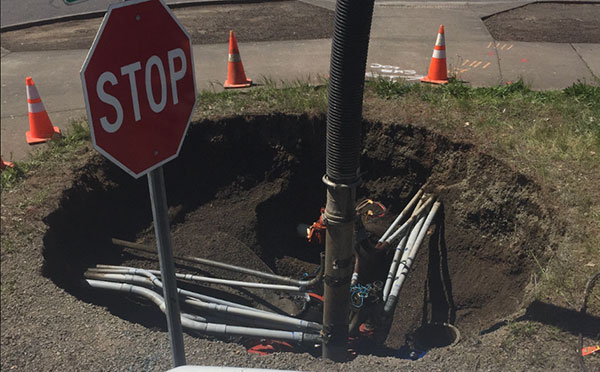 Oregon's Dependable Vacuum Hydro Excavation Experts
The vacuum excavation process provides an effective, non-destructive method to excavate underground areas. We have successfully used hydro excavating equipment to locate underground utilities, expose broken water lines, clean-out potholes, and trench areas for accessibility in a wide range of locations in Eugene and beyond. The hydro excavation process combines high-pressure water with a vacuum system to remove any debris which is loosened.
Known throughout Oregon for our timeliness and ability to keep the citizens safe without damage to utilities, Mid-State has become the go-to resource for mission-critical utility uncovering, "pot holing" and underground line locating for utility and construction companies.
What is Below the Surface?
With the amount of underground utilities and our communities' reliance on those utilities, we have developed expertise in helping safely uncover utility lines, so construction crews know what's under the surface before starting a digging project.
Vacuum excavating safely around our underground infrastructure with the ability to adhere to strict street repaving and major infrastructure project schedules, Mid-State is a respected, trusted partner.
Contact us to schedule hydro excavating service or vacuum excavating if your facility needs exploratory pot holing or needs to trench current or future utility lines safely.
Using Top Level Hydro Excavation Equipment
As with all Mid-State Industrial Services' equipment, we have invested heavily in some of the highest-level equipment available.
Our fleet of hydro excavators represent some of the newest, most powerful hydro excavation equipment on the market. With 8-inch vacuum tubes, our crews can effectively and efficiently remove a large amount of material while maintaining high safety standards.
Mid-State's hydro excavating trucks each have a 12-cubic-yard debris tank. Each vehicle carries up to 1,300 gallons of fresh water used with a high pressure digging wand to complete the hydro excavation process.
A Safe, Efficient Digging Alternative
In the past, excavating underground piping systems, utilities, and other critical infrastructure components was performed using mechanical construction equipment, including backhoes and manual labor. This frequently resulted in costly damage to underground systems and dangerous situations for workers.
Using hydro excavation an ideal alternative to traditional excavation and the use of other traditional digging equipment, even manual digging. Hydro excavating allows our crews to locate underground utilities, expose broken water lines, clean-out potholes, and vacuum a wide range of materials.
Mid-State Industrial's hydrovac excavating trucks are successfully used for:
Daylighting
Daylighting involves uncovering and exposing underground utilities to broad daylight. The daylighting process helps ensure on-site worker safety. In addition, due to its speed, daylighting lowers costs and improves productivity.
Trenching
Trenching is one of the most common projects for our hydro excavation crews. Multiple trenching methods – perimeter and cross, box and linear, slot, and boundary trenching – can be performed.
Pipeline and Utility Crossing
Vacuum excavation is the preferred system used to reliably uncover all adjacent utility lines in congested utility locations like street crossings. Vacuum excavating at a pipeline crossing helps in removing dirt near pipeline and utility crossings without destroying the pipelines in the process as heavy machinery might.
Hard-to-Reach Areas
Our 250 foot long 6″ vacuum hose can reach tight, enclosed areas including courtyards, building interiors and yes, even the top of a building to collect!
Excavating for Footings
We can excavate the right size holes for concrete pads and footings up to 30 feet deep. A highly efficient system to lay foundations for light poles, bollards signs, flagpoles, etc.
Potholing
Potholing is another term for digging a test hole to expose underground utility connections. The Mid-State Vactor hydrovacs are used to do potholing.
Contract your vacuum excavating with the reliable experts at Mid-State.