The Best Equipment for the Job
High-Quality Performance
At Mid-State Industrial, we provide the best equipment for the job. With a variety of state-of-the-art equipment, we are able to meet our clients' needs on any job. We purchase our rigs new and perform regular maintenance to keep them functioning at the highest level. We do all of our own maintenance and even modify our machines for better performance and a customizable approach for all of our customers.

With GPS tracking systems installed in our equipment, we capture valuable real-time data to help us optimize our practices and routes. This means increased driver reliability and more accurate job estimates for our clients. We hold ourselves to a high standard and consistently review our own practices to ensure we're providing our clients with the absolute best service.
At Mid-State Industrial, we maintain the best equipment for the job. We do all of our own maintenance and even modify the machines to perform better for a customizable approach for our customers.
TYMCO 435 Air Sweeper
The TYMCO sweeper is perfect in both wet and dry conditions and is ideal for light-duty parking lots, keeping them tidy and their maintenance to a minimum.
Features include:
Excellent dust & trash collection
Air directed at the pavement
Dual controls
Dual curb brooms
3.6 cubic yard hopper capacity
Sweeps leaves well and quickly
Works well in both wet and dry conditions
Efficient sweeping of light to medium debris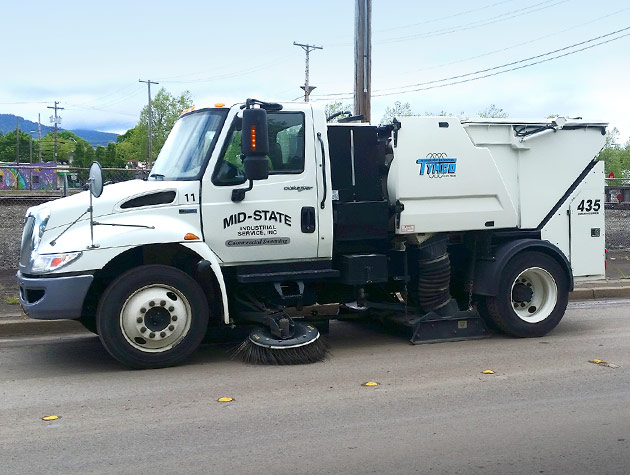 TYMCO 435
Elgin Road Wizard
Our broom sweepers are specially suited for the heaviest construction needs and gravel loading sweeper operations. The Road Wizard has a huge auxiliary engine and extra-large hopper, meaning these sweepers are designed to power through any sweeping job.
Features include
Powerful, dual-engine design
360 gallon water tank for dust control
5.4 cubic yard hopper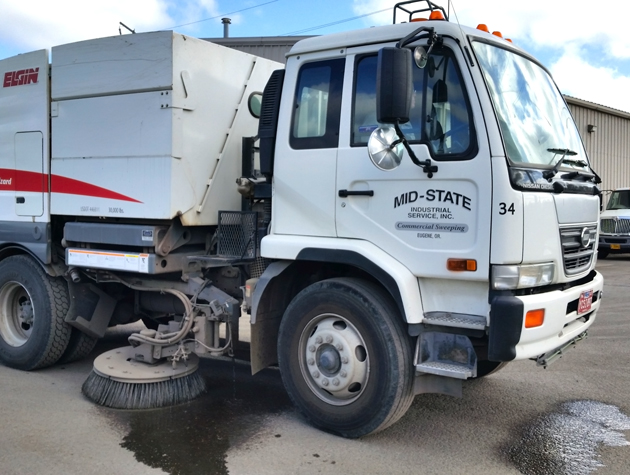 Broom Sweeper
Camel 200 Vacuum Truck and Jet Rodder
The Camel 200 Catch Basin and Line Cleaner is versatile with the ability to vacuum debris from the catch basin or manhole, making cleanup quick and easy. It's also great for cleaning up digesters, oil spills, and sumps.
Features include:
High-pressure water cleaning of drain lines
80 gallons/minute of water at up to 2000 psi
600 feet of 1-inch HP hose
Can be used with vacuum only, jet only, or both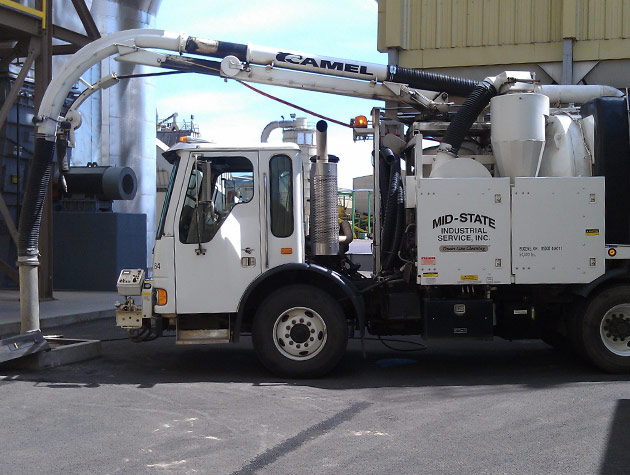 Camel 200
Vactor HXX Hydro Excavator
The Vactor HXX specialized in excavating in tight quarters. Its precision can increase worksite safety and prevent the enormous costs associated with power outages, burst waterlines, or gas explosions that can result when a backhoe, trencher, or other mechanical earth-mover hits a buried utility.
Great for:
Utility locations
Around tree roots
Areas inaccessible by standard equipment
Other tight quarters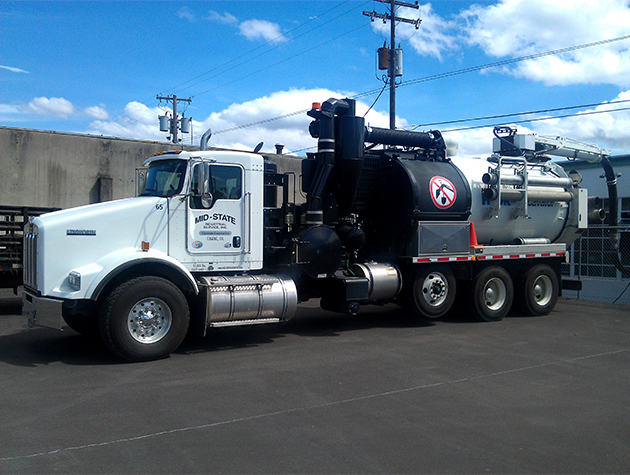 Vacuum Excavator
OMCO 3800 Gallon Street Flusher
With a 3800 gallon capacity, the OMCO Water Truck is the perfect machine for flushing any hard surface in order to maintain a safe working environment, control debris, or improve lot appearances. The trucks can be used on streets, on highways, in construction zones, or on athletic fields to provide a clean and safe surface. With cab-controlled front and side nozzles and two hand hoses for hard to reach areas, it washes streets and parking lots quickly and efficiently. The OMCO Water Truck also has two rear broadcast ports for dust control or soil compaction.
Features Include:
Cab-controlled front and side nozzles
Two hand-held hoses
Rear broadcast ports
3800 gallon capacity
Washing streets or parking lots, dust control, bulk water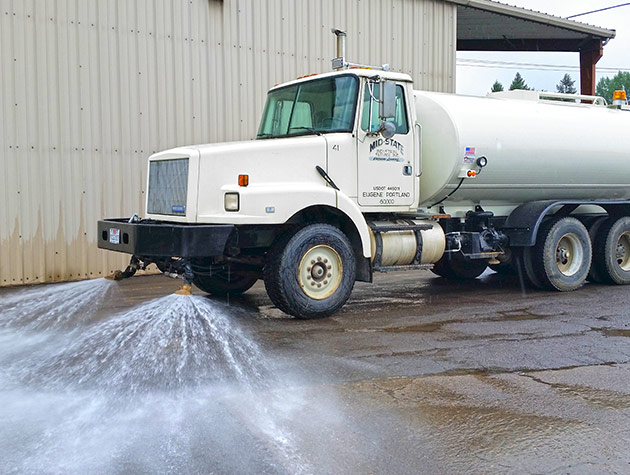 Street Flusher
Tennant 636 Green Machine Air Sweeper
The compact 636 Green Machine is a perfect sweeper for congested downtown spaces, parking decks, or any outdoor area where space is limited. Easily sweep around obstacles with independently operated dual brooms for detailed cleaning wherever needed.
Features include:
Dual Controls
Dual curb brooms
1.3 cubic yard hopper capacity
Dust filtration system
Up to 20 mph speed
Compact design for congested spaces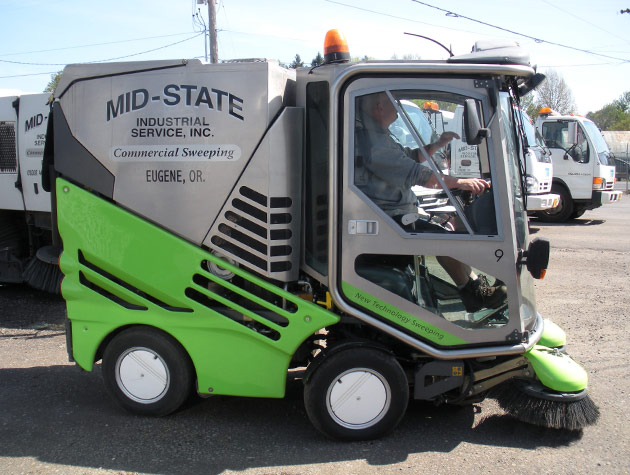 Green Machine
Fleet Management
GPS Tracking Technology
As leaders in the power sweeping industry we were the first in our region to implement a fleet-tracking GPS system for street sweepers. Since the nature of our profession requires our workforce to operate away from our headquarters, it's important for us to have 24/7 access to vehicle and driver status and information. These GPS systems have allowed us to optimize our routes and provide clear job performance verification for all of our customers.
This software helps us provide:
Customizable GPS data analysis
Improve job costing for competitive and accurate bidding
Track quality and completion through real-time data
Metrics for exactly where drivers have been and how fast they were working
Visual reporting for clear sweeping and vacuum target areas
GPS technology is jumping to the next level in business applications for field-oriented service fleets like ours. How does it work? The GPS technology captures real-time data for every scheduled job, including valuable data on how and when work has been completed. This allows us to operate efficiently and optimize our processes to give accurate job estimates and track driver performance. With a fleet of sweepers and vacuum trucks in the field, safety is a high priority. With a high standard enforced by our tracking technology, our operators pay close attention to their work and scheduled routes.
With comprehensive data capture we can also tell when the sweepers themselves are switched on or off, informing us how long the job took to complete. We're even able to tell whether a driver was in their seat or providing hand work outside of the vehicle. While our sweepers and vacuum trucks can pick up a lot of debris, larger pieces can jam the machinery and must be collected by hand for disposal. GPS technology offers our company and yours peace-of-mind by putting safety, accountability, and quality at the front of the line.